Whether for business, pleasure, or educational purposes, Greater Gordonsville, Virginia offers a variety of accommodations that will meet and exceed the expectations of the most discerning travelers.
The 1804 Inn
A classic Georgian villa, The 1804 Inn predates, by a generation, the construction of Governor Barbour's mansion which it overlooks. Its three suites are expansive and luxurious in the most timeless way. The inn and cottages are all exquisitely decorated, while still preserving the historical feel of the entire estate. Enjoy the comfort and seclusion while being within strolling distance of the historic landmark ruins, the Tasting Room, and Palladio Restaurant.
Address: 17655 Winery Road, Barboursville, VA 22923
Phone: 540-832-5384
Website: BBVWine.com
Chestnut Hill Bed and Breakfast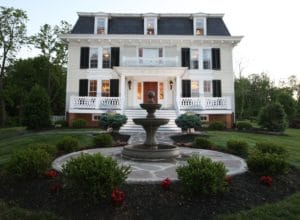 Built in 1860, Chestnut Hill has been skillfully renovated to preserve the master craftsmanship of this renowned historic home, and professionally decorated to provide guests with an opportunity to appreciate the past while enjoying the comforts of the present. Chestnut Hill offers elegant accommodations with easy access to everything in the area.
Address: 236 Caroline Street, Orange, VA 22960
Phone: 540-661-0430
Website: ChestnutHillBnB.com
Clifton Inn
Located just down the road from Thomas Jefferson's historic Monticello Estate, Clifton Inn is the perfect place to escape for a truly memorable stay. Overlooking the stunning forests, their welcoming staff will indulge you in elegant, personal service that is pampering, yet relaxing. Their private infinity pool is nestled in the charming Clifton garden, making it the ideal place to relax and refresh. And when you want to venture beyond the Clifton Inn's 100-acres of forests and lakes, all of the region's landmarks and destinations are within easy access.
Address: 1296 Clifton Inn Drive, Charlottesville, VA 22911
Phone: 434-971-1800
Website: Clifton-Inn.com
Holladay House Bed and Breakfast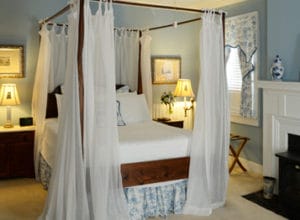 This historic Virginia bed and breakfast includes six guest rooms and offers a range of luxury options, including fireplaces, double-sized whirlpool Jacuzzi suites, private patios, satellite TV, DVD players, and free Wi-Fi. Savor fresh, made-from-scratch cookies on their side porch, or curl up in the parlor by the nineteenth-century marble fireplace. Grab a complimentary glass of wine or a bottle of Virginia craft beer while choosing a DVD, book, or game from the library. After a refreshing sleep, awaken to a full breakfast every morning, created from the innkeepers' personal collection of delectable recipes!
Address: 155 West Main Street, Orange, VA 22960
Phone: 540-672-4893
Website: HolladayHouseBandB.com
Keswick Hall
History and spectacular landscapes come together at Keswick Hall. The mansion's 48 rooms and suites are decorated with quality fabrics and furnishings, and its 600 acres include the prestigious Pete Dye golf course. Other facilities include two gourmet restaurants, three swimming pools (indoor and outdoor), seven tennis courts, a fitness center and spa, archery, and croquet. In addition, there are activities for children.
Address: 701 Club Drive, Keswick, VA 22947
Phone: 434-979-3440
Website: Keswick.com
Inn at Meander Plantation
The Inn at Meander Plantation is a beautiful 1766 historic country inn offering fine dining and luxurious accommodations, surrounded by 80 acres of rolling landscape in the foothills of the Blue Ridge Mountains. With its historically significant past and bucolic location on a hill, with spectacular mountain views and breathtaking sunsets, the inn truly exudes the essence of Virginia. Their southern-influenced gourmet restaurant offers four-course meals paired with the best Virginia wines. Ten luxurious guest rooms and cottages combine all the grace and charm of yesterday with the amenities and services of today. The inn is a short drive to Monticello and Montpelier.
Address: 2333 North James Madison Highway, Locust Dale, VA 22948
Phone: 540-672-4912
Website: Meander.net
Inn on Poplar Hill
The Inn on Poplar Hill bed and breakfast offers delightfully comfortable accommodations, cooked to order breakfast, and a full cookie jar. With 28 acres, the inn is a true oasis with meandering pathways, hidden garden niches, a stocked fishing pond, blackberry patch, and even a hops yard. The six rooms are suited to both leisure or business travelers, and are pet-friendly in the two downstairs rooms. All rooms have been decorated with the discerning traveler in mind; while preserving the original character and architecture of the 1890s farmhouse, each room is air-conditioned and features Queen- or King-size beds, with superior quality bed linens, and private baths with plush robes, towels, and luxury bath amenities.
Address: 278 Caroline Street, Orange, VA 22960
Phone: 540-672-6840
Website: InnOnPoplarHill.com
Inn at Westwood Farm
You will enjoy bright, airy open rooms with soft colors to instill an ambiance of relaxation and comfort. Crisp French linens and down bedding, modern bathrooms with thoughtful details, early morning coffee and tea outside your door, and farm to table breakfasts made with local organic ingredients. Of course, the Westwood Farm hens provide fresh eggs for your daily breakfast. Located near Montpelier, this luxurious inn is convenient to the history, shopping, dining, and other destinations that make the area a true escape.
Address: 12256 Montford Road, Orange, VA 22960
Phone: 540-661-1293
Website: InnAtWestwoodFarm.com
Inn at Willow Grove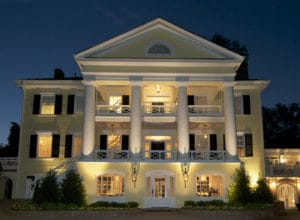 Whether you are looking for relaxation, discovery, adventure, or more, The Inn at Willow Grove is the perfect place to get away. Now a Forbes Travel Guide Four Star-rated boutique hotel and gourmet restaurant, the inn offers the finest luxury guest experience. Every stay includes concierge butler service, complimentary canapés in the salon in the evening, a custom-crafted sweet treat with hot tea selections during evening turn-down service, and fresh house-made beignets with locally-roasted signature blend French Press coffee delivered to your door in the morning. The guest services team will assist you in designing a truly custom, personal escape so your getaway will be memorable for years to come.
Address: 14079 Plantation Way, Orange, VA 22960
Phone: 540-317-1206
Website: InnAtWillowGrove.com
Mayhurst Inn
Mayhurst Inn is a stunning 155-year-old, historic house with eight unique guest rooms and suites, within 9,200 square feet, that will enchant you and provide the ideal backdrop for a perfect getaway or vacation. Situated on 37 acres of the rolling Virginia Piedmont, surrounded by manicured lawns, multiple gardens, old growth trees, and fields, you will be transported to a time and place where relaxation was a way of life. You will be pampered with luxury, fine Virginia wines, exceptional service, and sumptuous breakfasts while surrounded with romance and history. Your stay at Mayhurst will be as relaxed as you want, or filled with adventure and the many exciting things to do and places to visit that fill the region. Take pleasure in the "plantation experience" and enjoy some true southern hospitality.
Address: 12460 Mayhurst Lane, Orange, VA 22960
Phone: 540-672-5597
Website: MayhurstInn.com
Prospect Hill Plantation Inn
A recipient of AAA's Four-Diamond Award of Excellence for Dining and Lodging, and listed in the Green Springs National Historic Landmark District, Prospect Hill has long been considered one of the premier, historically significant properties in Central Virginia. This bed and breakfast is located near the home sites of Thomas Jefferson's Monticello, James Madison's Montpelier, James Monroe's Highland, and Patrick Henry's Roundabout, as well as Trevilian Station Battlefield and dozens of vineyards and wineries. Prospect Hill Plantation Inn offers luxury lodging along with unique opportunities to relive the history of America's founding while relishing the promise of Virginia's future.
Address: 2887 Poindexter Road, Louisa, VA 23093
Phone: 540-967-0844
Website: ProspectHill.com
Spotswood Lodge
Located in beautiful Somerset, Virginia, Spotswood Lodge is an 11-acre farm house and cottage rental. Operated by The Market at Grelen, it is open to couples who are getting married at Grelen, or any other amazing venue in the area. With eight bedrooms and seven full baths, Spotswood Lodge is a wonderful option for wedding parties and/or families of the bride and groom. Of course, weddings are not the only reason to consider renting. If you're looking for a place for a family reunion, company retreat, or just searching for the perfect country getaway, look no further than Spotswood Lodge. Nestled between the historical towns of Gordonsville, Orange, and Barboursville, there are many places to visit with a surprising number of eclectic shops and great restaurants within close vicinity.
Address: 16280 Blue Ridge Turnpike, Gordonsville, VA 22942
Phone: 540-672-7268
Website: SpotswoodLodge.com
Uphill House B&B
Located just a few miles outside Gordonsville, this quiet, natural, and relaxing escape will help you unwind and recharge. This B&B is family-run, so naturally they try to make this a "home away from home" experience. Come take off your shoes, enjoy the fluffy robes, and get comfy! Many of their guests come to "just get away from the hustle and bustle," and so should you, too!
Built in 2010, this is one of the more modern B&Bs in Central Virginia, and became a Virginia Green Lodging Facility in 2014. It includes a 1/2-mile walking trail, a split-rail fence around the yard, extensive flower beds, paved walkways, pergolas, and a cozy fire pit area. Come get a good night's sleep, have a homemade breakfast, be spoiled, and hit reset!
Address: 18248 Buzzards Hollow Road, Gordonsville, VA 22942
Phone: 540-923-0119
Website: UphillHouseBandB.com
Wolftrap Farm
Wolftrap Farm is a large horse and cattle farm, with mountain views, miles of forest trails, rolling pastures, abundant creeks and brooks, nine ponds, and easy access to all the attractions in Greater Gordonsville and the Central Virginia area. In recent years, it has become a very active wedding and events venue, capitalizing on its natural beauty and the opportunity to have a ceremony, reception, and overnight accommodations all in one location.
Wolftrap Farm is definitely kid-friendly. In addition to the fishing, hiking, petting of horses, rope swings, horse shoe pits, and general playing outdoors, there is a "Play Barn" with pool table, ping pong, air hockey, and other games as well. Furthermore, Wolftrap Farm welcomes most dogs.
Address: 17379 Wolftrap Drive, Gordonsville, VA 22942
Phone: 540-832-1803
Website: TheWolftrapFarm.com